Handybin Skip Bins are such an easy way to get rid of rubbish. When it comes to skip bins our range of Handybin skips and bins is second to none! Our range includes 'Certified Crane Bins' and 'bins with doors' for easy loading, so the next time you need to move rubbish and unwanted items call Handybin. We have a range of options from a 1 – 7 day hire period and extended periods for jobs that take a little bit longer.
Ring us today to book a Handybin Skip Bin or simply book your skip bin online.
Handybin Features  & Service
All sizes from 2m³ – 9m³
Easy loading – door access from 4m³ bins
Crane rated 3m³ bins available
Flexible time onsite from 1 –  7 days
Additional time onsite is available
Delivery Monday to Saturday
Waste recycling option available
Keeps sites clean and tidy
Handybin Applications
Ideal for one off cleanup jobs & for short and long term use
Ideal for builders, renovators and clean-ups in all sorts of situations
Suitable for a variety of waste types
High weight/volume limits on most bin sizes for bricks, dirt, concrete etc
Suitable in a wide range of situations i.e Construction & Building sites, Home. Office, Schools, Clubs, Factories, Shops etc etc
Ideal solution on building and construction sites to maintain an aesthetically tidy site and a safe work environment.
What a difference a door makes!
An innovative door design means … Easy loading
We were one of the first companies in Brisbane to introduce door access on a larger range of bin sizes, in particular the Handybin range of 'lift-on, lift-off' bins. Our well thought out design means that no ramp is needed to access the bin, making loading easier.
Wheel barrow doors are available on all 6m, 7m 8m & 9m bins and some 4m & 5m bins. The door is 750 mm wide which will accommodate a large tradesman's wheelbarrow. Our proven design means that no ramp is needed to access the bin, providing a safe and efficient way to load your rubbish.
Our range also includes 6 cubic metre tailgate bins (lift on-lift off bins) available for jobs that need a rear opening door. The tailgate acts as a ramp into the bin and sits less than 60 mm off the ground for easier loading.
Crane it ! Crane Bins available now !
We have bins that are certified for crane use – for situations where you need to lift waste from high rise construction sites or from difficult locations such as behind walls, fences or buildings etc. The crane bins are a 3 cubic metre bin certified for use to a SWL of 3000 kg. (Conditions of use apply)
Crane bins have lifting points for attaching certified lifting mechanisms and  heavily constructed openings for forklift tynes. This allows crane bins to be moved around on site when bins are required under or inside buildings and tight or difficult locations. The design means that when crane bins are being moved around sites they sit securely on a forklift.
This well thought out design means that the crane bins can be emptied using 'forklift rotator attachments' (subject to weight, forklift and rotator specifications being adequate for the purpose).
Our crane bins are hired for situations that require a 'lift up, lift down' solution and not for repeated emptying of bins. This is primarily due to the excessive damage that occurs in situations where this occurs.
This is another way in which we strive to meet the needs of our customers by continuing to develop, innovate and introduce new services to meet our growing market.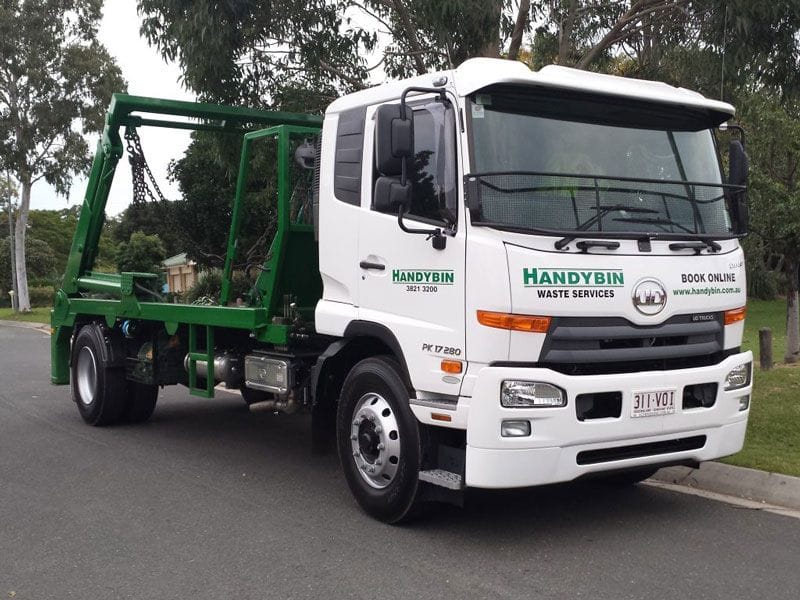 Our range of bins is one of the most complete in Brisbane. Handybins are available in 2, 3, 4, 5, 6, 7, 8, 9 cubic metres. With such a complete range we know that we will be able to find the right bin size to match your job. If you need a larger bin you can also book one of our BIG BINS (12, 15, 20, 25 & 30 cubic metres).
If you're searching for a smart handy and convenient way to dispose of rubbish from your home, office, business or without any hassle then call us today.
If it's a prompt and reliable waste removal company your looking for you can rely on us. With the extensive range of sizes and 25 years of experience we have the right solutions for most rubbish removal jobs.
View a Guide to the size and capacity of bins.